This is a small music mixing console that enables playing music while leading fitness classes using a wireless microphone. At the same time, audio with independent music vs voice mixing ratio can be streamed out via Internet to remote class attendants.
This device contains a few handy functions not found in general mixing consoles.
The idea for the device has been initiated by a friend, an owner of "Sky Gym" hence the device name. Her basic problem was mixing music with microphone signal and sending the mix to local PA system, which is of course is not complicated to enable electronically. Another request was to enable simultaneous streaming of the mixed audio to remote class attendants via some sort of Internet connected device - because of COVID-19 pandemic many old members of fitness and zoomba classes opted for exercising at home while keeping the spirits up by watching friends online, and there are even more fresh members who never physically entered the Sky Gym. And then after we started analysing options, it turned out that there were several other desirable features that we couldn't find in any commercially available product.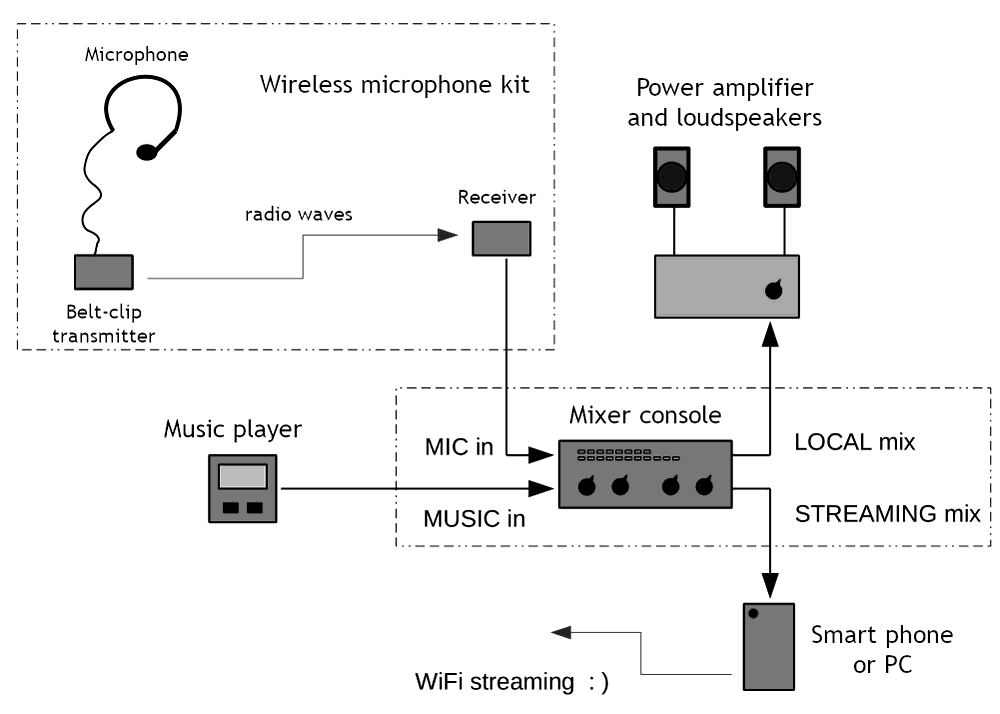 A pair of audio signals, Music and Mic, are firstly conditioned and than lead to two independent summing amplifiers. One of them is stereo and outputs a pair of mixed signals to local power amplifier, while the other one is mono and outputs its mix to audio input of the A/V streaming device, typically a mobile phone or laptop. There are a few other functional blocks beside such as LED-bar Mic input level indicator and 9V battery charger.
Pilot microphone kit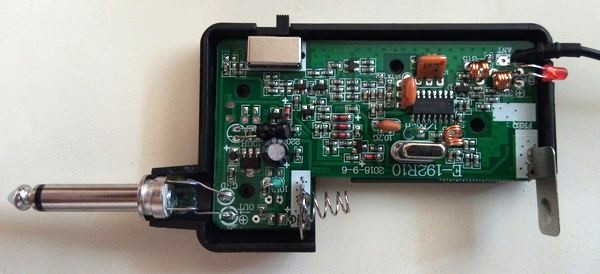 Microphone signal is sourced from the receiver of an analog "pilot microphone" kit pictured above with its internals open to public view. We opted for it as a simple and inexpensive solution that works satisfactorily in practice. Such kits are often used by professional musicians for live performances in open and clubs, so range and quality are also well suited for fitness class purposes. Although being quite cheap, this particular kit uses quartz-stabilised transmitter and receiver so RF frequency is very stable. Chip used in MIC Rx module is AN2003 i.e. one of those typically used in portable AM/FM radios so distortion is around 0.5% which might raise a few eyebrows but for undemanding applications such as this one, that is indeed very Ok. Modulation is wideband FM and noise-free reception range is ~ 20 m with the Rx wire antenna unfurled.